Much of the work I produce is with softer stones like alabaster, wonderstone, limestone and soapstone, as the shapes that come to mind are more easily coaxed from these softer stones.  They also require fewer power tools which works well in my limited studio space and I enjoy the actual hand work involved.
The development of ideas is a very personal process to each artist, so here I will describe the step by step process I use in carving the stone itself.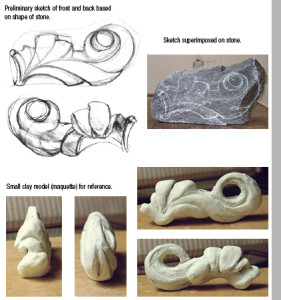 I may start with the shape of the chosen stone or find a stone that fits my rough sketch. In the sculpture shown here I started with the stone and created a sketch to fit.
Many times I will create a maquette to help visualize the shape in 3 dimensions. At this stage I may adjust the maquette if the idea evolves or I find the stone shape dictates a change.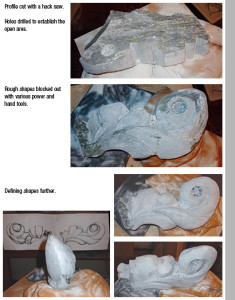 In this next image you will see the design roughly blocked out. I cut out the larger sections of stone with either a hack saw or a reciprocating saw with a diamond coated blade.  I also use drill bits and a flexible shaft tool for much of the heavy stone removal. Shaping is done with hand chisels, scrapers, diamond bits in a flexible shaft tool as well as hand rasps and files.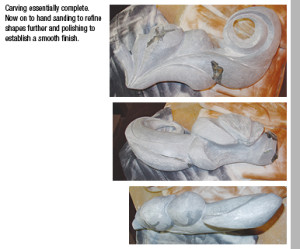 Here you will see the sculpture further refined. The dark spots are the result of a very thin epoxy glue, applied where cracks are identified.  This helps to stabilize the stone by soaking into the crack. The glue is not visible once the stone is polished.
I may use fine diamond files to help sharpen up lines and undercuts, then it is on to the hand sanding. I start with 100 grit and work my way up to 1,500 grit with wet/dry sandpaper. Then a coat of wax followed by hand buffing to bring up a shine.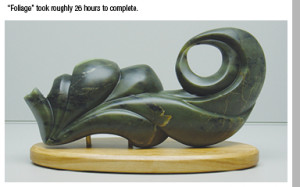 The final finish can vary depending on the type of stone but this is the basic process used on all my sculptures. This particular piece took 26 hours to complete.